ArchaeoFair
Your location for Archaelogical Services
Cultural Heritage and Technology
ArchaeoFair, according his duty, is devoted not only to Archaeology and Monument History, but also to epigraphical research with innovative means of "ICT – Information and Communication technology" (f.e. Open Source GIS) as well as modern satellite based technologies ( f.e. Differential-GPS – DGPS), measurement and dating methods (f.e. ground radar, geoelectric and geomagnetic analysis, geophysical prospection, luminescence dating) with its right to that purpose developped plattform. We want to achieve this goal by a middle or long term process:
Development of an International Information Platform (Innovative Access Service) on the area of archaeological and epigraphical research and preservation of Cultural Heritage, who supports a cross-departmental and interdisciplinary exchange of information incl. expansion of international connectivity on the range of archaeology and epigraphy, creating, interpreting and using of cultural and scientific contents ("crossover of cultures") - even of multi formatic and multi sourced digitised objects.
- Aerial photographs of looted areas in Southern Iraq - Carabinieri T.P.C. Italia
Satellite based technology - Google Earth™ and the archaeological exploration of Afghanistan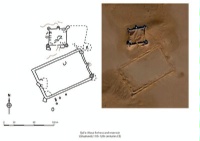 International Information Platform (Innovative Access Service)
The concept of this International Information Platform (Innovative Access Service) concerning the subject "CULTURAL HERITAGE and TECHNOLOGY" follows innovative technical solutions and scientific strategies, based on powerful complex hard- and software programmes, technologies and tools to the scientific development of objects and data of different provenience on the area of the nature of sceience, the humanities and sciences of information.
With a successful processing of long term data archiving are always present the human capabilities of users with information and knowledge inspired accesses; by this action people have to keep attention during their research of innovative ICT material. Text processing programmes enable a complete new access to the automatic handling with dynamic and fluent digital contents of greater volumina and guarant their existence.

Under this label we unify a number of enterprises, who serve to the research and preservation of our cultural heritage. It's important for us, that these enterprises, who produce and retrieve archaeological software and technology, or work as subcontractors of these enterprises, identify with their stand alone identities in our cultural portal and profit of our long and world wide experience in the areas of archaeology, preservation of antique monuments and epigraphy.
If you have any questions or suggestions, you can contact us by
Service Hotline
at any time.
Tel.: +49 (0) 6842 - 53 68 47
Fax: +49 (0) 6842 - 50 76 81
E-Mail / Support: museo@museo-on.com
We would be pleased about a feed back. Critics and suggestions to our internet pages are welcome every time. We are pleased to hear you.